IN DEVELOPMENT

HANK
A feature film about Love, Poetry, Los Angeles, The Post Office, Cats
...and Charles Bukowski
Directed by David Jacobson
Produced by Madeleine Molyneaux
Written by King Orba
An Official Selection, Cinemart 2019



photo credit: David Jacobson; all rights reserved


IN PRODUCTION
The Village Detective
A film by Bill Morrison
Produced by Bill Morrison and Madeleine Molyneaux
Music: David Lang
Official Selection, FID LAB 2018
Post Production Award (Subtitling)

IN PRODUCTION
Aleph (US/Croatia)
A film by Iva Radivojevic
Produced by Madeleine Molyneaux, Vilka Alfier, Iva Radivojevic
Delivery: 2020

IN PRE-PRODUCTION
The Flak
A feature film by Kevin Jerome Everson
Shooting Locations: Germany, Panama, Korea
The Flak, a hybrid feature film combining elements of fiction and documentary, follows, in three parts, the odyssey of three Black American soldiers, stationed respectively at U.S. Army bases in Germany, South Korea, and Panama, in the waning years of the Cold War in the 1980's, to purchase a local automobile to ship back to the United States.
Cultures will clash when the soldier, speaking only English, tries to negotiate the price of the vehicle with the car salesperson, who speaks no English, and communicates in his native language (German, Korean or Spanish). When the soldier cannot properly communicate with the salesperson he realizes in fact that he has joined the military under false pretense. The soldier discovers that purchasing a vehicle in another country is neither easy nor inexpensive. These factors and conditions are in fact, based on the real-life accounts and experiences of the filmmaker's family and friends in the Midwestern United States, in the 1980's, working class African American males, recruited, fresh out of high school, to enlist and register for the U.S. Army, and falsely enticed by the possibility of purchasing automobiles at a fraction of their cost and importing them back to the United States at a great profit.
With many automobile factories closing in the Midwest, particularly the filmmaker's home state of Ohio, these methods were successful in recruiting young men to the Army, shipping them around the world, in search of cheap cars, in the place of the "spoils of war". The accompanying culture clash will be revealed in the exchanges of economy and consumerism, the price haggling and negotiation common to U.S. capitalist culture is less accepted in these other cultures.
The title, THE FLAK, derives from the name the soldiers used to call the army base Flak Kaserne, near Augsburg, Germany. It is the base where the filmmaker's uncle, Pleas Everson, was stationed in 1966, as a soldier in the 724th Maintenance Company of the 24th Infantry Division. Pleas was a diesel mechanic assigned to the repair and maintenance of military trucks and jeeps.
Riffing off the experience of Pleas and his contemporaries, the protagonists--who will be played by the same actor-- will work in the maintenance division of their army unit. Working on diesel trucks and jeeps used by officers and others, he will have an intimate relation and knowledge of the automobile.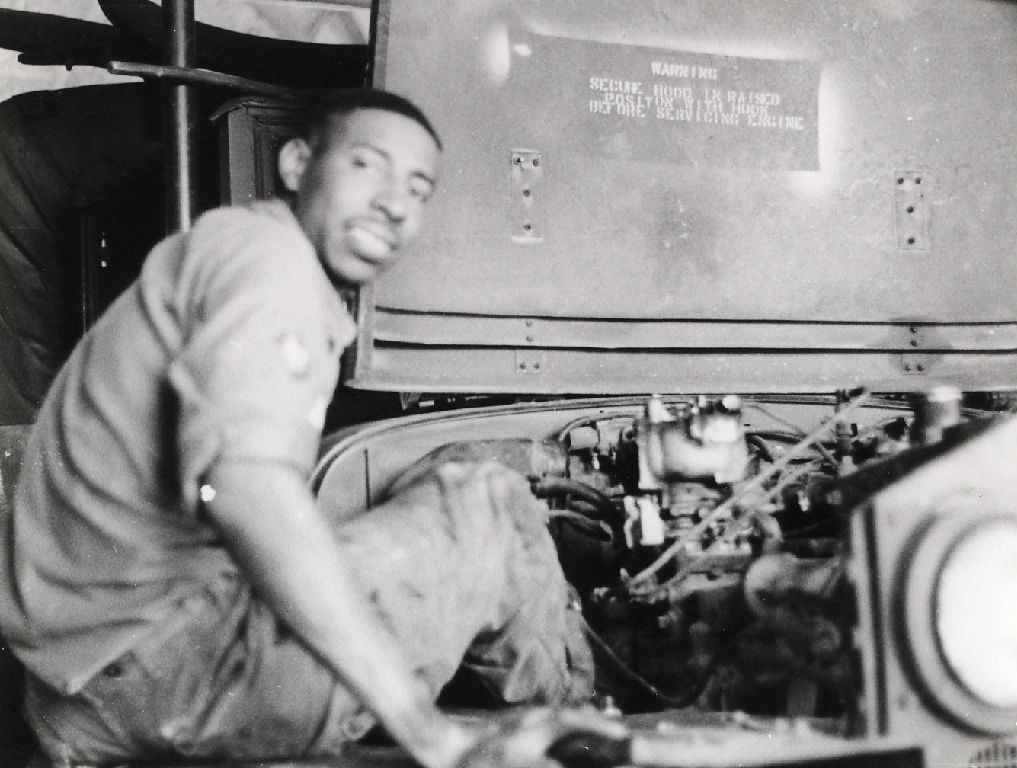 Pleas Everson, Germany, 1950's, courtesy Kevin Jerome Everson. All rights reserved.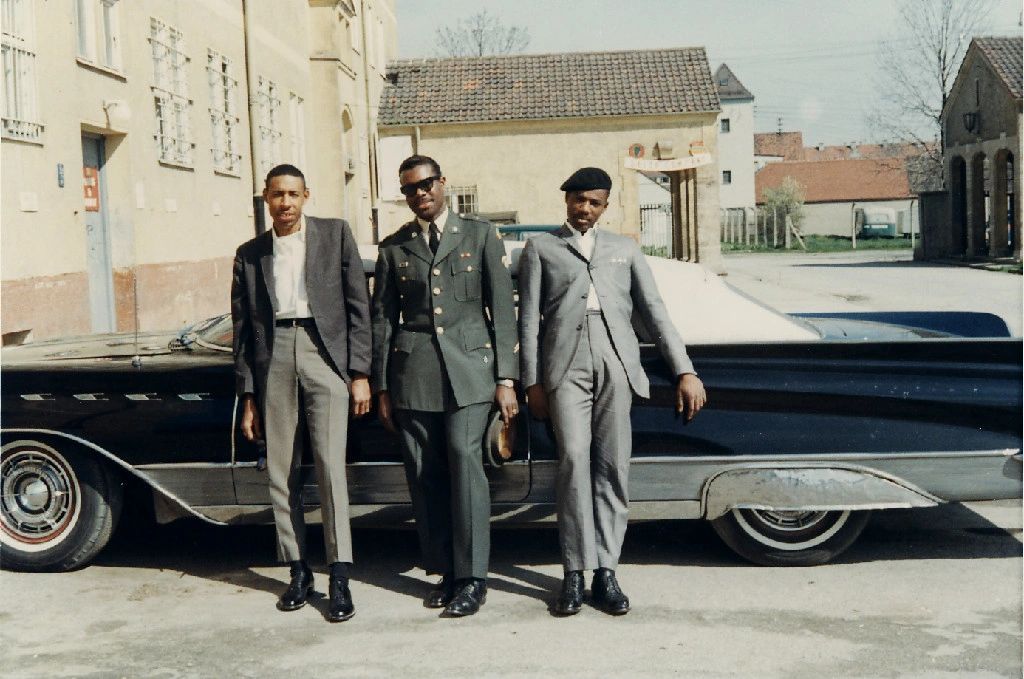 Pleas Everson, friends and car, Germany, 1950's, courtesy Kevin Jerome Everson. All rights reserved.